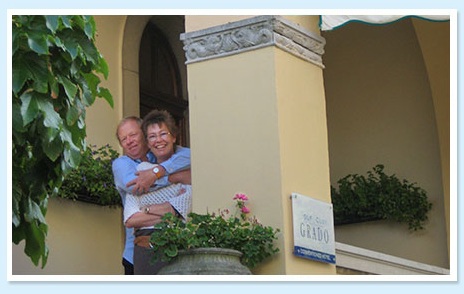 The Family Business
Mario and Sabine Vianello direct the Hotel Villa Reale in the family´s third generation. The Hotel Villa Reale has always been proud to be a family business with a long tradition and history. We particularly value our "small guests", since we believe that when children feel comfortable and at ease, their parents will be able to enjoy a pleasant and relaxing vacation too. Many of our guests have been coming for years and generations to us. Since the Villa Reale is a small hotel, we have the chance to personally take care of every single guest.

Our staff is always happy to satisfy all of your wishes and special requests. The rooms are cleaned twice a day, we offer a washing service and have two big gardens in which your children can play and enjoy the summer. If you like to book a cabin with lounger and umbrella at the beach, we can do that for you.

We do not work with any travel agencies or online booking websites, since we are a small family business and we deeply value individuality, tradition and personal contact with our guests.