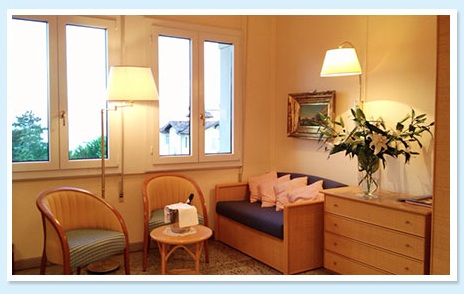 The Rooms
The Villa Reale offers its guests all the comforts of a modern hotel of our times. We have free Wifi, internet connection and a laptop, which are available for all our guests. When entering the main hall of the Hotel Villa Reale, one feels like suddenly entering another period of time, and going back to the end of the 1800´s. Many paintings, doors, the central staircase and the furniture have all been kept the same, in order to maintain the original flair and characteristics of the Villa. All the rooms are equipped with private bathroom, air conditioning, flat-screen television, telephone, minibar, safe, bathrobes, house-shoes and hair driers. The size of the beds is: 2x100cmx200cm.

We have suitable rooms for parents with two or more children and also connecting rooms, giving you as much space and freedom as you need. Since we are a very children-friendly hotel and we value our "small guests", we have different kinds of discounts for them (even up to 100%), depending on the age of the child.

Five of our rooms have large terraces, with view on the beach and the sea or on our private gardens. On the 3rd floor we have other types of rooms, the so-called "student rooms", which are spacious and furnished in a slightly more rustic way. Prices vary and are on request.